Missions Conference Special Events
Global Worship
Sunday, November 1 / 4:00-5:00 PM
Meet in the Worship Center or via livestream. Join us as we lift our hearts and our voices in praise to our glorious king! We'll worship together and celebrate ways that music allows people of every tribe, nation and tongue to worship our creator. All ages are invited!
Watch Video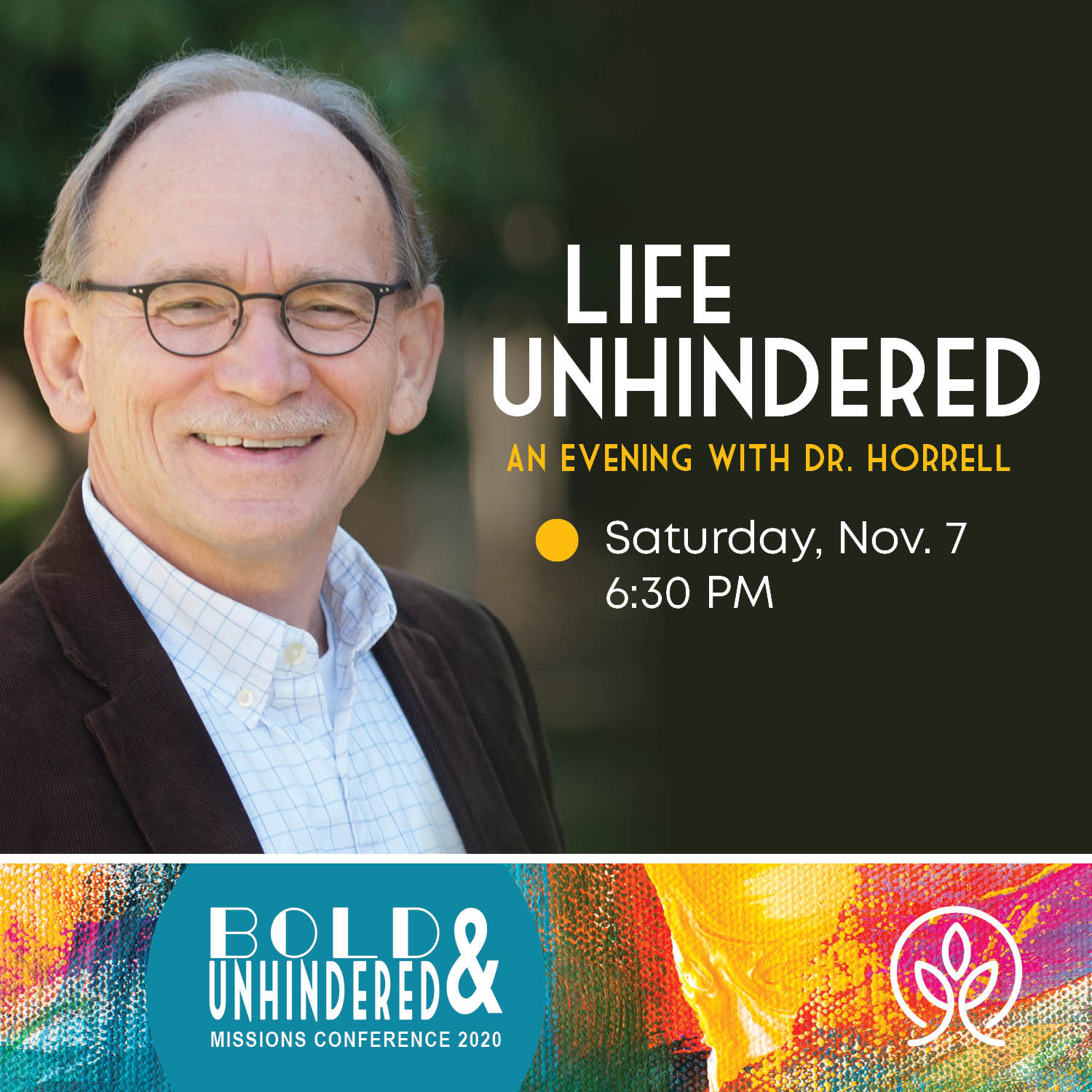 Life Unhindered:
An Evening with Dr. Horrell
Saturday, November 7 / 6:30 PM
Discover how theology—what we believe about God—meets the real world with Dr. Scott Horrell and Jake Prochaska. We'll explore how the Triune God motivates us to be self-giving, unhindered, on mission to love our neighbors and to make disciples. Meet in the Worship Center or join via livestream.
Watch Video
Bold Steps:
An Evening with Dr. Orr
Saturday, November 14 / 6:30 PM
Explore how we can boldly step outside our comfort zones and do what God has called us to do in making disciples of all nations. Hear from Dr. Rodney Orr about living life intentionally, breaking down barriers and reaching across cultures to share the Good News of the Gospel. Meet in the Worship Center or join via livestream.
Watch Video
Online Missions Fair
See video greetings and information about our Featured Ministry Partners. Learn how you can Pray, Give, and Go.
Learn More
Men's Morning Missions Connection
Saturday, November 7 / 8:00 AM
Worship Center
Dr. Horrell and Jake Prochaska will join us for a morning of encouragement. No registration is needed.
Watch Video
Ladies' Missions Connection
Tuesday, November 10 / 7:00 PM
Worship Center
Ladies, join us for an encouraging and inspirational evening as we explore taking bold steps to follow God's call. We'll hear from our own Susan Simmons about her journey of surrender and stepping forward in faith.
Watch Video
Bless Our Missionaries
We'd love to encourage our missionaries in a tangible way. Would you like to donate toward gifts for our missionaries? Please contact Cari Wallgren (309-242-5922, [email protected]).